MuchBetter Casinos
Online payment services and e-wallet methods offer the possibility to test real money casinos as a customer without revealing all your data. MuchBetter is the best payment method in this area since it enables an easy and convenient deposit at an online casino without having to provide any account information.
In our review, we show you how to use the MuchBetter payment method and which MuchBetter online casinos are secure and trustworthy. We are very cautious when giving our recommendations since it is in our interest to minimize your risk as much as possible.

Best MuchBetter Online Casinos 2023
1
100% up to $750 + 200 Free Spins
Bonus information
| | |
| --- | --- |
| Wagering requirements: | Wager bonus & initial deposit 35x |
| | Wager winnings from free spins 40x |
| Minimum deposit: | C$30 |
| Bonus validity: | 10 days |
Maximum bet per spin while wagering the bonus is $7.50.
Neteller and Skrill deposits don't qualify for the bonus.
2
10% Weekly Cashback Bonus
Bonus information
| | |
| --- | --- |
| Wagering requirements: | none |
| Minimum bet: | none |
| Maximum bet: | none |
| Maximum cap on the cashback payouts: | none |
3
Bonus information
| | |
| --- | --- |
| Minimum deposit: | C$30 |
| 1st deposit: | 100% Bonus up to C$750 + 200 Free Spins |
| Maximum bonus amount: | C$750 |
Bonus must be wagered 35x
Free spins must be wagered 40x

MuchBetter Casino Test Winner: Wallacebet
Our test winner – Wallacebet Casino – receives the highest score in our evaluation. The casino is operated by L.C.S Limited and holds a European gambling license from the Malta Gaming Authority (MGA). Casino games from reputable and well-known software providers are waiting for you here. Especially in the area of security and trustworthiness, the provider has reached our expectation. The numerous bonuses offered by our MuchBetter test winner are also impressive. For detailed information about the casino, read our Wallacebet Casino review.
Our Criteria
In this review, we will go into detail about the MuchBetter payment method. Our team of experts has years of experience in online casino industry and therefore knows exactly what matters and what makes a reputable provider. Some of the important criteria are definitely security, the company behind a casino and a transparent pros and cons of the payment method.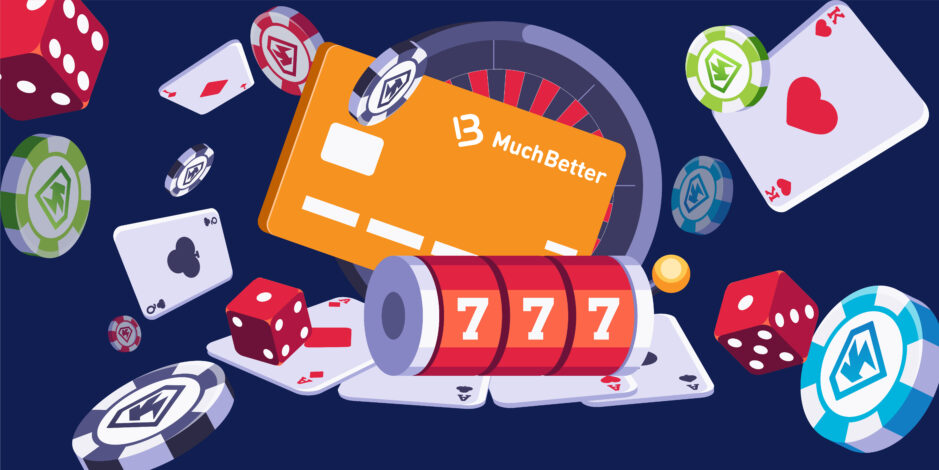 How Do MuchBetter Casinos Work?
If the online casino of your choice offers MuchBetter as a payment method, the first step is to set up an account there. After that, you can select your preferred payment method and make your first deposit. Let's take a detailed look at the deposit and withdrawal using MuchBetter.
How Do I Deposit With MuchBetter?
In our step-by-step instructions we will show you how to make a deposit with MuchBetter at the online casino.
First of all, you need to download the MuchBetter app to your mobile device. The app can be found in the App Store or the Google Play Store. After the download, you register or set up an account. This procedure takes less than 2 minutes.
We have tested it for you and prepared the following list with individual steps:
Download and open the MuchBetter app
Select Sign Up
Enter your phone number
Accept privacy policy
Auf Registrieren klicken
Set 4-digit PIN code + confirm
Enter verification code sent to you via SMS
Enter name, date of birth, address, email and preferred currency
Done – you have successfully set up your MuchBetter account/wallet
In order to use the account, you have to top up your balance. For this purpose, you need to provide your complete data. Don't worry – your data is safe and does not need to be entered again on the website of MuchBetter online casino. You can then add funds to your account.
When topping up the balance, you will first need to select your preferred payment service provider and enter the amount you would like to add to your account. You can choose between credit card, Giropay, various cryptocurrencies, CashToCode or the classic bank transfer.
As soon as your desired balance is uploaded and added to your MuchBetter Wallet, you can visit the online casino's website, sign up there and make your first deposit.
Let's take a look at the first step in the online casino:
You can now set up an account at an online casino or register. In most online casinos you will be required to select your preferred payment method already during this step. You need to choose MuchBetter here.
If this is not the case, you go to the wallet in your profile settings and select the menu item Deposit. In the cashier area you choose your preferred payment method and make your first deposit. Then you enter the desired deposit amount in the provided field and claim your welcome bonus!
Normally, the balance is displayed in your casino account within a few seconds. It is sometimes necessary to reload the page after making a deposit.
What To Watch Out For When Making a Withdrawal?
When reviewing MuchBetter online casinos, we noticed that some accept MuchBetter only as a deposit method and don't offer it for withdrawals. However, this doesn't mean that you can't withdraw your money. In order to get it, you simply have to choose another method, such as a bank transfer.
If MuchBetter is available as a withdrawal, it is just as fast and easy as a deposit. To withdraw funds, click Withdraw in your account and fill in all the important information, such as the withdrawal amount, in the window that appears. After confirming this process, your money will be sent to the Muchbetter Wallet immediately and will be visible in the app. After reviewing the casinos, we can say that the transfers are smooth and fast.
Specifics of MuchBetter Use
If you decide to use MuchBetter for your online gambling adventure, you will benefit from some special features. You can, for example, receive various rewards from MuchBetter when you use your balance to play at the online casino. We will come back to the so-called rewards below. Another huge advantage that we have noticed is a smooth deposit. In addition, there are also far fewer rejections compared to credit cards, for example.
Speaking of credit cards: Another special feature that we don't want to deprive you of is the MuchBetter Mastercard. You can easily top up the balance on the exclusive and free orange card yourself and then use it at the online casino or for your everyday purchases. You can find more information about this in the MuchBetter Mastercard section.
In addition to these advantages, the MuchBetter e-wallet is one with the lowest fees.
Security
Security is a highly important topic in our review. After all, you want to enjoy your online casino experience without worrying about money when using payment services, such as MuchBetter. We have taken a closer look at this topic and prepared a clear summary for you.
First of all, MuchBetter is one of the most secure payment options online. There is no need to worry about data theft in the wallet or a hacker attack on the casino. When logging into the MuchBetter app, you always have to enter your password. If you change your smartphone or want to log in with a different mobile device, you will receive an activation code via SMS to unlock the new device.
The parent company of MuchBetter, MIR Limited UK Ltd., is also regulated by the Financial Conduct Authority (FCA). This shows that the company is willing to take all necessary steps to preserve the reputability of this payment service provider.
MuchBetter vs. Crypto
The deposit is fast and straightforward also when using cryptocurrency. Here, you simply need to enter your wallet key instead of your phone number and security pin.
Another clear advantage of cryptocurrency is that you do not necessarily need a mobile device. Your crypto wallet can easily be installed on your PC and the coins can be stored there. MuchBetter does not offer this option since the use of the mobile app is mandatory.
However, when using cryptocurrencies, it is essential to pay attention to many differences among the individual coins, as with any other currency. The best-known coins, Bitcoin and Ethereum, have not been the fastest coins for a long time. There are also coins that score much better when it comes to anonymity, for example, Cardano or Solana.
MuchBetter Explained
MuchBetter is a payment service with a simple principle behind it. You only have to download the app and install it on your mobile phone. Then you can set up an account and top up your balance. Once that's done, you can deposit at the online casino of your choice with just a few clicks without having to enter your bank account details.
These details only need to be provided if a withdrawal with MuchBetter is not possible and you want to receive your winnings via bank transfer. In order to make a deposit at a casino using the MuchBetter account, you only need to enter your phone number and the deposit amount.
The Company Behind MuchBetter
MuchBetter is owned by the British company MIR Limited UK Ltd. The company was founded by Israel Rosenthal and Jens Bader in 2011 and is based in London. The two founders had one goal in mind from the very beginning: to make cashless payments as easy as possible.
They were successful in doing so since MuchBetter has become a very popular payment service provider. The company has already received a few awards, such as the Rising Star Award in 2018 and the Payment Innovation of the Year at the Payment Awards 2018.
About MuchBetter

| | |
| --- | --- |
| Company name | MIR Limited UK Ltd. |
| Headquarters | London |
| Year of foundation | 2011 |
| Founder | Israel Rosenthal, Jens Bader |
| CEO | Israel Rosenthal |
| Customer service | [email protected] |
| Availability | in over 180 countries |
| Employees | ca. 100 |
| Turnover | more than 20 million euros |
MuchBetter Mastercard
MuchBetter also offers the possibility of getting the free Prepaid Mastercard, which involves no costs. Mastercard doesn't only allow payments at the online casino but also serves as a regular credit card. It can be used in supermarkets or for cash withdrawals from ATMs.
It only takes a few steps to order the card via the MuchBetter website. It is then sent to your home by post. Finally, the card needs to be activated in the mobile app. Note: the card is intended for the European Economic Area (EEA) only.
MuchBetter Devices
In addition to the credit card, MuchBetter can also be used in your everyday life with other devices. The additional options that enable a contactless payment are a key fob or a STISS analog watch. They are not exactly useful for MuchBetter casinos, but they do increase the recognition and acceptance of MuchBetter in general.
App
MuchBetter is a mobile payment service and thus requires the user to own a mobile device and install the app (iOS or Android) on it. Without the app and a mobile device – be it a smartphone or tablet – you can't use the service.
After installing the app, you can register and make a deposit. We have already explained this step in detail in the text above. The app is very straightforward and intuitive. Individual processes, such as registration, use and payment processes, are explained in an understandable way.
Muchbetter Costs and Fees
There are no fees for depositing and withdrawing at the online casino. However, fees may apply for deposits and withdrawals to your MuchBetter account, which vary depending on the bank. For example, at Wallacebet Casino, there is a maximum deposit limit of €25,000 when using MuchBetter.
All the information on this topic can be found on the MuchBetter website.
MuchBetter Limits
When using MuchBetter, there is no limit on the e-Wallet, which means you can add as much or as little money to it. However, the limit is set by the casino. There is a minimum and maximum deposit and withdrawal limit. In our detailed casino reviews, you can find a comprehensive table with all the information on the deposit and withdrawal.
MuchBetter: Pros and Cons
Easy payment
Free e-wallet
Account balance can be checked at any time
No need to provide account details
Fast registration
Rejected payments occur rarely (as sometimes with credit cards)
Withdrawal not always possible
No desktop app – mobile device necessary
MuchBetter Online Casinos – Our Conclusion
After examining MuchBetter closely, we can say that this is a straightforward payment method. The e-wallet is especially recommended to keep a clear overview of one's balance at the online casino. The fact that many advantages and specifics are connected to the wallet shows that this payment provider specializes in online casino transactions.
The mobile app is very clean, well structured and easy to navigate. The free Mastercard and the contactless payment key fob contribute to the outstanding offer. We are convinced that MuchBetter will continue with its strong presence in numerous online casinos, thus bringing joy to many players.
Alternative Payment Methods
In addition to MuchBetter, many different payment methods are available in online casinos. You can use fiat currency (real money), or a credit card, such as Visa or Mastercard, for payments or choose a standard bank transfer instead. Our review shows that e-wallets are also very popular, the most common being Skrill, Netteller, Zimpler and EcoPayz. Another popular and widely used method is a prepaid card, such as Paysafecard.
You can find a clear overview of all possible payment options in the table below. Besides real money options, cryptocurrencies have also become popular payment methods in online casinos. You often come across classics, such as Bitcoin and Ethereum! Other coins, such as Solana, Cardano or Monero, have also become very popular in online casinos.
All alternatives with their advantages and disadvantages at a glance:
| Payment method | Pros | Cons |
| --- | --- | --- |
| Bitcoin | First and original cryptocurrency | Rather slow cryptocurrency |
| Ethereum | Very popular, accepted in many casinos | Partial bugs in smart contracts |
| Tether | Popular and most used Stablecoin | Not traded 1:1 to the dollar |
| Litecoin | High availability (max. 84 million coins) | Lack of unique selling proposition – copy of Bitcoin |
| Bitcoin Cash | Larger blocks – more transactions at lower fees | Small selection of Bitcoin Cash casinos |
| Dogecoin | One of the fastest cryptos when paying | Frivolous currency |
| Ripple | High availability (max. 100 billion coins) | Under SEC scrutiny (uncertain future) |
| Tron | Worldwide free entertainment system | Highly fluctuating TRON exchange rate |
| Binance Coin | Largest crypto exchange in the world | Small selection of Binance casinos |
| USD Coin | Stablecoin | Limited selection of USD Coin casinos |
| Cardano | Significantly more anonymous than e.g. Bitcoin | Newer cryptocurrency, insufficient distribution |
| Mastercard | Very popular, accepted in many casinos | Not always available for withdrawals |
| VISA | Insurance against fraud and theft | Not all casinos offer Visa Card as a withdrawal method |
| MiFinity | Deposits with various options and cryptos available | Not very widespread |
| Bank transfer | Absolutely secure and encrypted payments | Long transaction time |
| DAI Coin | Backed by cryptocurrency | Not widely used |
| CashtoCode | Funds available directly in an online casino | Necessary to visit a partner branch |
| eZeeWallet | | |
| Dash | High-speed transactions | Small selection of Dash casinos |
| Skrill | Very popular, accepted in many casinos | Fees may apply |
| Monero | Untraceable transactions | Newer cryptocurrency, insufficient distribution |
| Ecopayz | Very popular, accepted in many casinos | Different limits depending on account level |
| Chainlink | Fully decentralized and much more anonymous than e.g. Bitcoin | Small selection of Chainlink casinos |
| Neo | Fast deposits and withdrawals | Limited selection of NEO casinos |
| Solana | Secure payment method | Not widely used |
| EOS | No mining, so it conserves resources | Delegated system – not completely decentralized |
| Shiba Inu | High security thanks to the ERC-20 token standard on the ETH protocol | Not widely used |
| Uniswap | UNI is completely non-custodial (self-control over tokens) | No exchange to non-Ethereum currencies |
| Basic Attention Token | Secure ERC20 protocol | Too tightly branched with the Brave browser universe |
| Polkadot | Secure and reliable payment method | Available only in a few online casinos |
| Much Better | Very good cost control | Small selection of MuchBetter casinos |
| Apple Pay | | |
| Paysafe Card | Anonymous deposit | No withdrawal |
| Neteller | Very popular, accepted in many casinos | Different limits depending on account level |
| Zimpler | Not necessary to provide sensitive data | Not always available for withdrawals |
| Rapid Transfer | Funds available directly in an online casino | Not available in every casino |
Alternative Payment Methods to MuchBetter
MuchBetter Casinos – FAQ
Which MuchBetter casino is the best?
We have prepared a detailed review of our MuchBetter test winner for you and included the link in our top list.
Is there a MuchBetter casino bonus?
There is currently no online casino with a special MuchBetter bonus. However, there are several other casinos that offer a great welcome bonus (usually including free games) as a reward for your registration. In this way, you can test the available games, such as slots, and see if you like the casino's game selection. Cashback promotions are currently also gaining popularity. The bonus varies depending on the online casino.
How secure is the deposit at a MuchBetter casino?
The deposit process with MuchBetter is secure due to SSL encryption and a valid gambling license. Sometimes a 2-factor authentication is also provided as an additional security measure. You can find more details about security in our review.
Which real money games are available at a MuchBetter casino?
If the casino of your choice offers MuchBetter as a payment method, you can access the full game selection.
Why should I deposit with MuchBetter?
MuchBetter account/wallet is a welcome alternative, if you don't want to share sensitive data when depositing and withdrawing.
Is there a MuchBetter mobile app?
Yes. There is a mobile app, which is essential to set up an account/wallet.
More pages